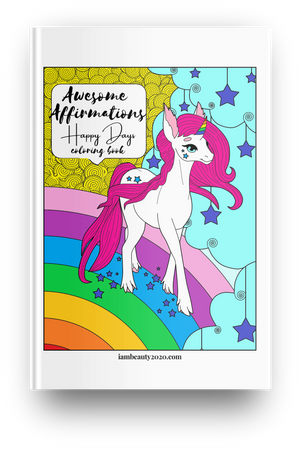 I Am Beauty Watch Me Soar!
Awesome Affirmations Happy Days 20-Page Printable Coloring Book
Sale price Price $3.99 Regular price $15.99 Unit price / per
Tax included.
Shipping
calculated at checkout.
When you hear the word affirmations what does it do for you? Do you kind of roll your eyes and think 'those things don't work, they're a little airy-fairy for me!' Or do you get excited and think 'oooh I love me some good affirmations!'
Regardless of which category you fall into when it comes to affirmations, we can all agree on the fact that we talk to ourselves, right? And those things that we're constantly repeating to ourselves, whether negative or positive, influence what happens around us.
And I bet if you start paying attention to that self-talk, you'll notice it's probably a lot more negative than you realized! So, I encourage you to start retraining that self-talk to focus on more positive things.
And that's where this awesome package of coloring pages comes into the picture. I've put together this package to help us all focus on daily gratitude…while having some coloring fun too!
Get instant access to these digital files by purchasing today: 
This package is a fun and easy way to start retraining your self-talk to focus on the positive and to have daily gratitude.
This Bundle Includes The Following Beautifully Illustrated Affirmations:
Compassion And Understanding Help Me To Overcome Anger And Gain Peace
I Focus Only On The Good In Others
I Am Grateful For This Moment Which Enriches My Life
I Am Happy In My Own Skin And In My Own Circumstances
I Am Responsible For My Own Happiness So I've Got This Covered
I Can Tap Into A Wellspring Of Inner Happiness Anytime I Wish
I Choose To Be Happy Regardless Of What The World Or Others Want
I Feel Joy And Contentment In This Moment
I Fill My Mind With Positive Nourishing Thoughts
I Inhale Deeply And Let Peace And Happiness Fill My Mind And Body
I Inspire Myself And Others To Be Happy By Modeling How To Do It
I Look At The World Around Me And Can't Help But Smile And Feel Joy
I Love And Approve Of Myself
I Make A Conscious Choice To Be Happy
I Project Peaceful Thoughts And Feelings Into The World And Beyond
I Release The Past And Live Fully In The Present Moment
My Heart Is Overflowing With Joy
My Most Important Goal Is To Be At Peace Regardless Of  The Situation
My World Is A Peaceful Loving And Joy-Filled Place To Live
Today I Make A Commitment To Give Others What I Want To Receive
File Format: PDF

* This is NOT a PHYSICAL product. It is a download file that you can print and use

These are digital files so you'll get immediate access after purchasing!

Relax while you color in the intricate details of these illustrations and show them off along with the rest of your coloring pages when you're done! They can be printed and colored by hand or with software programs like Photoshop, Paint 3D, or Affinity.

Downloaded images do not have watermarks.

Please share your finished coloring page with your review! I love to see them! I hope that you enjoy coloring this as much as I enjoyed creating it.

Delivery: Instant Download

Your files will be available to download once payment is confirmed.

I don't accept returns, exchanges, or cancellations. But please contact me if you have any problems with your order.
Imagine if you could be satisfied and content with your purchase. That can very much be your reality with the Awesome Affirmations Happy Days 20-Page Printable Coloring Book.

Inventory Last Updated: Dec 06, 2023