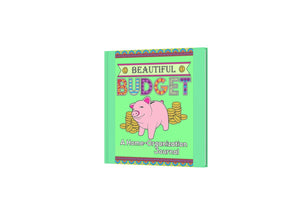 I Am Beauty Watch Me Soar!
Colorful Beautiful Budget Planner Journal Printable
Sale price Price $6.99 Regular price $27.00 Unit price / per
Tax included.
Shipping
calculated at checkout.
This 28-page printable budget journal will help you stay on track with your finances!  The designs are fun as well!
27 coloring pages, plus cover
One time purchase. Not a subscription.
Digital. You print on your home printer.
Create your own beautiful and customized Home Finance Budget with Beautiful Budget Printable Planner. Each page features forms and coloring elements sure to turn monthly budgeting into something fun that you look forward to!
It is recommended that your store your Beautiful Budget Printable Planner Journal in a 1/2″ or 1″ clear view binder.  28 pages designed to be printed for multiple uses:
1. Cover –  for the front of your view binder
2. Back – for the back of your view binder
3 & 4 Spines – for the spine of your view binder, in either 1/2″ or 1″ size
5. Tab dividers – to separate the different sections of your binder: logs, debt, occasional bills
6. Pay the Bills – this is your bill payment log. You'll want to print at least 12 of these, one for each month
7. Pay the Bills- this one summarizes the entire year at a glance
8. Bank Account Register – record incoming and outgoing transactions from your bank
9. Charity Log – keep track of all your charitable contributions
10. Savings Log – keep track of your savings
11. Categories – fun page outlining typical budget categories
12. Monthly Budget – style 1
13. Monthly Budget – style 2
14. Budget Envelopes – envelope method
15. Debt Be Gone! – master debt payoff tally sheet
16. Financial Freedom – piggy image: put your financial goal at the top and color milestones
17. Daily Spending – record what you spend in a day
18. Pay the Bills Calendar – record when bills are due
19. Debt Payoff Log – print one for each debt you owe, and record payments
20. Net Worth – assets minus liabilities equals net worth (watch this grow!)
21. Account Info – track account numbers and information
22. Occasional Bill Log – Master sheet for those random, recurring bills; property taxes, car insurance, annual vet visits
23. Occasional Bill Log – track each of your random recurring bills
24. Occasional Bill Categories – fun page filled with common occasional bill categories
25. At a Glance – Monthly Recap – Jan – June
26. At a Glance – Monthly Recap – July – Dec
27. Notes
28. Title Page –  for the inside of your binder
Coloring page size: 8.5x11"
File Format: PDF  

* This is NOT a PHYSICAL product. It is a download file that you can print and use

These are digital files so you'll get immediate access after purchasing!

Downloaded images do not have watermarks.

Delivery: Instant Download

Your files will be available to download once payment is confirmed.

I don't accept returns, exchanges, or cancellations. But please contact me if you have any problems with your order.
Looking for the black & white Colorable Version?  CLICK HERE
Life is too short to live without the Colorful Beautiful Budget Planner Journal Printable. Be happy. Be Content. Be Satisfied.

Inventory Last Updated: Sep 28, 2023