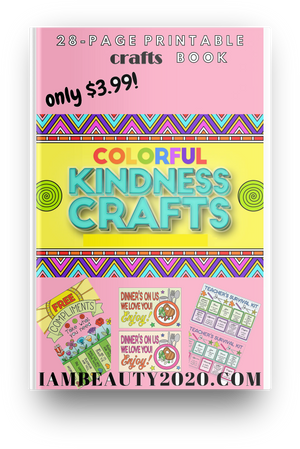 I Am Beauty Watch Me Soar!
COLORFUL Random Acts of Kindness (RAOK) Kindness Crafts Package
Sale price Price $3.99 Regular price $12.99 Unit price / per
Tax included.
Shipping
calculated at checkout.
An act of kindness is never too small.

I say that because so many people make the mistake of thinking that in order to make a change in the world, they must do some grandiose gesture. But that just isn't the case. Things like smiling at a stranger, holding the door open for someone, or paying for the car behind you in a drive-thru line may seem insignificant but we never know what someone is going through and that simple act may be exactly what they needed that very moment.

Just think - if each one of us did one random act of kindness a day, think of how better the world would be around us. I say, let's start a random acts of kindness movement!

And thanks to this brand-new package, it's super easy!

Grab the RAOK Kindness Crafts package and you will receive instant access to:

·       13 RAOK (random acts of kindness) crafts
·       14 pages of Random Acts of Kindness Tags (to put on something you are giving away)

These come in PDF files. 

A few examples of the RAOK crafts you'll find:

·  Attn Delivery Drivers! We appreciate all you've done for us this year. Enjoy some goodies as we spread holiday cheer!
·  Free Compliments Take What You Need (with pull off compliment tags like you matter, you are amazing, and more)
·  … and so many more!

And a few examples of the RAOK tags:

·  If you can be anything, be kind.
·  Kindness changes everything
·  Surprise! You've just received a random act of kindness. Pay it forward if you can.

What are you waiting for? Grab your package today and let's start that movement ;-)
This Bundle Includes The Following Colorful Random Acts of Kindness Crafts:
Homeless Blessing Bags
Holiday Delivery Driver Goodies
You Won My Heart Scratch-to-Win Cards
RAOK (Random Acts of Kindness) Dinosaur Treasures
Free Compliments Tear-Off Flyer
Seeds of Kindness Packets
Sidewalk Chalk Baggies
Teacher's Survival Kit
You've Been Boo'd (2 pages – one instruction for the recipient, one flyer for window)
"Dinner's On Us" Basket Note
"I Donut Know What I'd Do Without You" Donut Goody Notecard
Flowers & Butterflies Greeting Cards
Redbox RAOK Free Movie Night
And The Following Pages of (8) Colorful RAOK Gift Tags per page:

If You Can Be Anything, Be Kind
You've Been RAOK'D!
I Believe In The Magic Of Kindness
Kindness Changes Everything
Happy Halloween
Give Thanks
Random Kindness Rocks!
In A World Where You Can Be Anything, Be Kind
Kindness Is Free. Sprinkle It Everywhere!
I Am Thankful For You
Surprise! You've Just Received A Random Act of Kindness
Kindness Is Contagious
Please Enjoy This Random Act of Kindness
From Your Secret Santa
Coloring page size: 8.5x11"
File Format: PDF  

* This is NOT a PHYSICAL product. It is a download file that you can print and use

These are digital files so you'll get immediate access after purchasing!

Downloaded images do not have watermarks.

Delivery: Instant Download

Your files will be available to download once payment is confirmed.

I don't accept returns, exchanges, or cancellations. But please contact me if you have any problems with your order.
Looking for the COLORABLE version of this?
Every journey is unique, just like you. If you're looking for a planner that fits the mold of your life, the COLORFUL Random Acts of Kindness (RAOK) Kindness Crafts Package is for you.

Inventory Last Updated: Dec 06, 2023