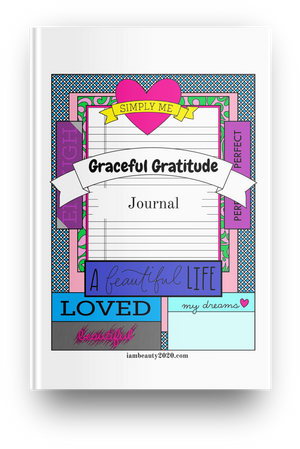 I Am Beauty Watch Me Soar!
Graceful Gratitude Journal 42-Page Printable Coloring Book PDF
Sale price Price $3.99 Regular price $12.99 Unit price / per
Tax included.
Shipping
calculated at checkout.
This Bundle Includes The Following Beautifully Illustrated Gratitude Journal Themed Coloring Pages:
1. I Am Perfectly Imperfect. Take Risks.
2. She Stood in the Storm and when the wind did not blow her away, she adjusted her sails.
3. I am important. Love these Everyday Moments.
4. So very Lucky. Dreaming Big. Thanks. Discover. Surrounded by Goodness.
5. All About Me.
6. Important. So Thankful. So Happy. Loved. Fearless.
7. The happiest people don't have the best of everything, they just make the best of everything.
8. I am Loved.
9. Smiles from Ear to Ear. So Goofy.
10. In the Moment. Magic. Thank You.
11. Hello. D is for Dreams.
12. Strong. Fabulous.
13. Live Well. Laugh Often. Love Much. Dreams do Come True. Today I am thankful.
14. Choose only What Brings You Joy.
15. Smile. What Makes Me Smile.
16. I am Enough.
17. Believe in Miracles.
18. Thankful. I am my own kind of Beautiful. Perfectly Imperfect.
19. Smile. Happiness Looks good on You.
20. I Am. Perfectly Imperfect. Celebrate.
21. Love. My Happy Place. Amazing.
22. Warm Notes.
23. I am Enough.
24. We are Here. Love this magic moment. Love More, Worry Less.
25. Happy Place.
26. I am the Captain of My Soul. Blossom. Never Let Anyone Dull Your SPARKLE. Simply Me.
27. I am thankful. Beautiful.
28. Simply Me. Enough. A beautiful Life. Loved. Perfectly Perfect. My Dreams.
29. I am so very blessed. Dream.
30. I am Loving Life.
31. Be Happy. Be Right. Be You. Spreading My Wings. Start each day with a grateful heart.
32. I am chasing Happiness. Loved. Notes to Self. Grateful. Blessed. Magic surrounded by goodness.
33. Thank You. On My Way. STRONG. Taking Risks. Unstoppable. Happy.
34. Strong. Surrounded by Goodness.
35. On a Journey. Enjoy the Ride. Brave.
36. So Blessed. Happy, Thankful. Simply Me. Enough. Follow Your Heart.
37. Doing My Very Best. Spreading My Wings. Happiness Starts Here. Going to be Okay. The Best is Yet to Come.
38. I am… grateful. thankful. so very blessed. Celebrate.
39. I am on a journey. Loving Life. Fabulous.
40. Live in the Moment. Unstoppable. Magic.
41. Live Well. Laugh Often, love much.
42. On a journey. Be Happy. Be Right. Be You. I am unstoppable.
Coloring page size: 8.5x11"
File Format: PDF  

* This is NOT a PHYSICAL product. It is a download file that you can print and use

These are digital files so you'll get immediate access after purchasing!

Relax while you color in the intricate details of these illustrations and show them off along with the rest of your coloring pages when you're done! They can be printed and colored by hand or with software programs like Photoshop, Paint 3D, or Affinity.

Downloaded images do not have watermarks.

Please share your finished coloring page with your review! I love to see them! I hope that you enjoy coloring this as much as I enjoyed creating it.

Delivery: Instant Download

Your files will be available to download once payment is confirmed.

I don't accept returns, exchanges, or cancellations. But please contact me if you have any problems with your order.
On the fence about this Graceful Gratitude Journal 42-Page Printable Coloring Book PDF? Don't be. Let us address your concerns.

Inventory Last Updated: Sep 28, 2023