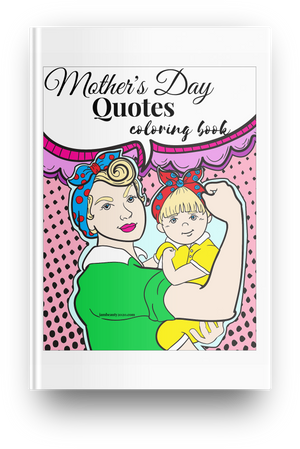 I Am Beauty Watch Me Soar!
Mother's Day Quotes 27-Page Printable PDF Coloring Book
Sale price Price $3.99 Regular price $12.99 Unit price / per
Tax included.
Shipping
calculated at checkout.
This Bundle Includes The Following Beautifully Illustrated Motherhood Themed Coloring Pages for only $3.99:
The heart of a mother is a deep abyss at the bottom of which you will always find forgiveness. -Honore de Balzac
Sweater, n. Garment worn by a child when its mother is feeling chilly. -Ambrose Bierce
Mother is the name for God in the lips and hearts of little children. -William Makepeace Thackeray
What are Raphael's Madonnas but the shadow of a mother's love, fixed in permanent outline forever? -Thomas Wentworth Higginson
Mother's love is peace. It need not be acquired, it need not be deserved. -Erich Fromm
God could not be everywhere, and therefore he made mothers. – Rudyard Kipling
Mother love is the fuel that enables a normal human being to do the impossible. – Marion C Garretty
You are the closest I will ever come to magic. – Suzanne Finnamore, The Zygote Chronicles
A mother is a person who seeing that there are only four pieces of pie for five people, promptly announces she never did care for pie. -Tenneva Jordan
The phrase "working mother" is redundant. -Jane Sellman
The moment a child is born, the mother is also born. She never existed before. The woman existed, but the mother, never. A mother is something absolutely new. -Rajneesh
The sweetest sounds to mortals given Are heard in Mother, Home, and Heaven -William Goldsmith Brown
Mother is one to whom you hurry when you are troubled. -Emily Dickinson
Mother – that was the bank where we deposited all our hurts and worries. – T. DeWitt Talmage
The precursor of the mirror is the mother's face. -D.W. Winnicott
If you have a mom, there is nowhere you are likely to go where a prayer has not already been. -Robert Brault
A little girl, asked where her home was, replied "where mother is" – Keith L Brooks
Youth fades, love droops, the leaves of friendship fall A mother's secret hope outlives them all. -Oliver Wendell Holmes
It's not easy being a mother. If it were easy, fathers would do it.
A mother is not a person to lean on, but a person to make leaning unnecessary. -Dorothy Canfield Fisher
A mother's love is patient and forgiving when all others are forsaking. It never fails or falters, even though the heart is breaking – Helen Rice
A mother's arms are more comforting than anyone else's. -Diana, Princess of Wales
An ounce of mother is worth a pound of clergy. -Spanish Proverb
No language can express the power and beauty and heroism of a mother's love. -Edwin Chapin
Biology is the least of what makes someone a mother. -Oprah Winfrey
Mother: the most beautiful word on the lips of mankind. -Kahlil Gibran
Mother: the most beautiful word on the lips of mankind. -Kahlil Gibran
Coloring page size: 8.5x11"
File Format: PDF  

* This is NOT a PHYSICAL product. Nothing will be shipped. It is a download file that you can print and use

These are digital files so you'll get immediate access after purchasing!

Relax while you color in the intricate details of these illustrations and show them off along with the rest of your coloring pages when you're done! They can be printed and colored by hand or with software programs like Photoshop, Paint 3D, or Affinity.

Downloaded images do not have watermarks.

Please share your finished coloring page with your review! I love to see them! I hope that you enjoy coloring this as much as I enjoyed creating it.

Delivery: Instant Download

Your files will be available to download once payment is confirmed.

I don't accept returns, exchanges, or cancellations. But please contact me if you have any problems with your order.
The Mother's Day Quotes 27-Page Printable PDF Coloring Book is far and away, one of our most popular items. People can't seem to get enough of it.

Inventory Last Updated: Sep 28, 2023