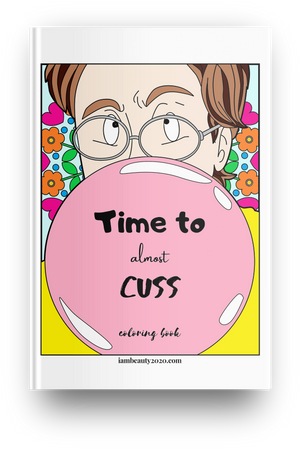 I Am Beauty Watch Me Soar!
Time to Almost Cuss 60-Page Printable Digital Coloring Book PDF
Sale price Price $3.99 Regular price $12.99 Unit price / per
Tax included.
Shipping
calculated at checkout.
This Bundle Includes The Following Beautifully Illustrated Clean Curse Words Coloring Pages:
Bleep
Buckethead
Captain Haddock's
Cheese and Crackers
Coffee Pickin
Crap on a Cracker
Crapola
Crikey
Dadgummit
Dagnabbit
Darn Tooten
Dip Stick
Dirty Batch of Bricks
Dog Gone It
Fiddie Faddle
Fiddlesticks
Fluff You
Fluffy Muffin Pants
For the Love of Pete
Frell
French Toast
Gad Zooks
GodBless America
Golly Gee Willikers
Good Gravy
Got Dandruff
Great Scott
Great Googly Moggly
Holy Cow
Holy Mackerel
Horse Feathers
Horse Hockey
Jiminy Christmas
Jumpin Jehoshaphat
Jumping Gee Willigers
Mother Clucker
Mother of Pearl
Mother Fathers
Narf
Oh Jenkies
Oh My Biscuit
Oh My Stars
Oh Mylanta
Pumper Nickel
Puss'n Boots
Sassafrass
Shazbot
Shenanigans
Shut the Front Door
Snap Crackle and Pop
Son of a Big Blue Bird
Son of a Biscuit Eater
Son of a Nut Cracker
Son of a Baptist Preacher
Stuff Yourself
Sufferin' Succotash
Sugarsnaps
Typical Nasty Weather
What the Scratch
Wicked
Coloring page size: 8.5x11"
File Format: PDF  

* This is NOT a PHYSICAL product. Nothing will be shipped. It is a download file that you can print and use

These are digital files so you'll get immediate access after purchasing!

Relax while you color in the intricate details of these illustrations and show them off along with the rest of your coloring pages when you're done! They can be printed and colored by hand or with software programs like Photoshop, Paint 3D, or Affinity.

Downloaded images do not have watermarks.

Please share your finished coloring page with your review! I love to see them! I hope that you enjoy coloring this as much as I enjoyed creating it.

Delivery: Instant Download

Your files will be available to download once payment is confirmed.

I don't accept returns, exchanges, or cancellations. But please contact me if you have any problems with your order.
The Time to Almost Cuss 60-Page Printable Digital Coloring Book PDF is evocative, to say the least, but that's why you're drawn to it in the first place.

Inventory Last Updated: Sep 28, 2023